Printed from https://www.writing.com/main/books/entry_id/779207-New-Release
| | |
| --- | --- |
| | A glimspse into my musings ... as rambling, twisted & demented as they may be |
#
779207
added
March 30, 2013 at 5:44pm
Restrictions:
None
Do you like to support your fellow WDC members in their dreams?? Okay .... how about .... Do you like hot sex and a plot too??
If you answered yes to either or BOTH of those you should check out Adriana Noir
's first book in the new SKALS Series.


| | |
| --- | --- |
| ASIN: B00BZKITMK | Kindle |




BLURB:



What does a girl wear to dinner with a scary Special Forces type with killer eyes and an even deadlier partner?

After a chance encounter in the woods leaves her shaken and reeling, the last thing Taylor McAvay wanted to do was accept an invitation to dinner. Then again, after seeing what Sebastian Baas was capable of, she felt she had little choice. The guy did just save her life, and the feel of his partner's assault rifle pressed against her cheek still lingered in her mind.

What she discovers surprises her. Beneath the armor and fatigues, is a smart, attentive, and sophisticated man. Unable to resist, Taylor finds herself drawn in by the Special Agent's charm. Everything about Sebastian, from his imposing presence to his hypnotic eyes, pulls her under his spell. When a drive by shooting leaves her apartment riddled with bullets, she falls under his command as well—not to mention the shadow of a lethal, underground organization known as SKALS.

Her lover has a dark and dangerous side he tries to keep hidden, but when a series of events sends their lives spiraling out of control, she realizes there is much more to him than meets the eye. And when she fails to meet his expectations, the discipline she faces is a startling contrast to the pleasure he gives. Whether she wants to leave or not doesn't matter. Taylor soon learns, when it comes to Sebastian and SKALS, there is no escape.

**DISCLAIMER** This is a dark, erotic thriller with a heavy emphasis on plot. It contains elements of Dominance and discipline with dubious consent, psychological conditioning, and mental manipulation. There's also gunfire, violence, and things that blow up. If any of this offends you, this is not the book for you.




REVIEW:



Sinister Kisses is an appropriate title. Just when you think you can catch your breath from the sizzling sex scenes in this book the chilling main character will rip it away! Special Agent Sebastian Baas is like no character I've ever read. His personality and mood swings are dizzying at times. Noir brings to life a man that can tickle a child one moment and carve a man's face like a jack-o- lantern the next and she does it with skill, slowly showing us the things that have shaped Sebastian into the man he is.

Sebastian and Taylor have a chance run-in while he is on the job and something about the naïve beauty calls to him. I truly believe her future was set even before she accepts his dinner invitation. Sebastian is a man used to getting what he wants. Their courtship is tense and rocky at times, but Tay is drawn to his strength and confidence. She has never had someone want to take care of her and as strong as she's had to be, there is an appeal to turning the worry over to someone else.

There were times I wanted to scream or smack one or both of them but I fell in love with this couple as I read. The innocence in Taylor is a perfect contrast for Sebastian's dark intensity. They share a need for love that is consuming and their passion, good and bad, leaps off the page as you read.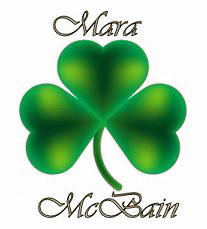 | | |
| --- | --- |
| ASIN: B00BZTOP0G | Kindle |
© Copyright 2013 Mara ♣ McBain (UN: irish_hussy69 at Writing.Com). All rights reserved.
Mara ♣ McBain has granted Writing.Com, its affiliates and its syndicates non-exclusive rights to display this work.
Printed from https://www.writing.com/main/books/entry_id/779207-New-Release