Printed from https://www.writing.com/main/books/entry_id/835547-Dark-Witch-of-Zanvia
(32)

This collection contains writings for the I Write - 2014 Challenges and the miscellaneous
#
835547
added
December 15, 2014 at 8:26am
Restrictions:
None
Standing on the edge of the lake
The wind swirls and carries wisps of water
Up into the sky
A woman stands at edge
Her gaze holding firm
Her concentration holds
Draws the water up
Funneling it higher
With her hands
She draws them out
And the water moves
Like a wall it gathers
Then reforms
And dances back to the surface
Like a curtain of shear
Lace like delight.
The woman smiles
Lowers her hands
And returns to the forest
Where the trees bow
And the wind whispers
Her name...
Aria

Results
▼

** Image ID #1855238 Unavailable **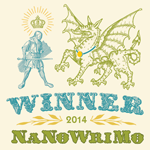 © Copyright 2014 💙 Carly - Pumpkin Spiced (UN: carly1967 at Writing.Com). All rights reserved.
💙 Carly - Pumpkin Spiced has granted Writing.Com, its affiliates and its syndicates non-exclusive rights to display this work.
Printed from https://www.writing.com/main/books/entry_id/835547-Dark-Witch-of-Zanvia