Printed from https://www.writing.com/main/books/item_id/1485688-The-Faerys-Tale-Burden-of-Prophecy
| | |
| --- | --- |
| | Part One: Will Rosyani's fragile new life fall apart before it even begins? |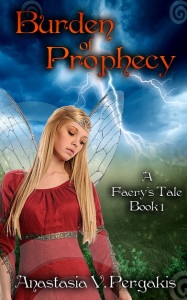 Rosyani never thought she'd find love – after all, who can love the one faery in the world that has no powers? When her sworn enemy saves her life and proposes marriage to keep her safe from his father, she accepts. But her new father-in-law still plots to kill her – and her new husband. Fleeing from the angry King, Rosyani discovers she's more powerful than she ever thought.

An ancient prophecy hangs over their heads as Rosyani and her new husband try to survive in the wildnerness. Hatred and ignorance spread through the five kingdoms. The land is primed for war. Will the prophecy come to pass? Will the kingdoms unite once again?

Will Rosyani survive long enough feel a love she never thought possible?

Author's Note:
Writing in Progress. You'll see author notes between brackets [ ] Throughout out the story. Feel free to comment on these author notes. Thank you.

© Copyright 2021 Anastasia. V. Pergakis (UN: harleyhoney at Writing.Com). All rights reserved.
Anastasia. V. Pergakis has granted Writing.Com, its affiliates and its syndicates non-exclusive rights to display this work.
Printed from https://www.writing.com/main/books/item_id/1485688-The-Faerys-Tale-Burden-of-Prophecy