This week: Dad Jokes — Laugh or Groan?

Edited by: Lornda
More Newsletters By This Editor



1. About this Newsletter
2. A Word from our Sponsor
3. Letter from the Editor
4. Editor's Picks
5. A Word from Writing.Com
6. Ask & Answer
7. Removal instructions



This week's Comedy Editor:
Lornda
Dad jokes are so bad they're funny.
I like telling dad jokes. Sometimes he laughs.
When does a joke become a dad joke? When the punchline becomes apparent.
It's inappropriate to make a 'dad joke' if you're not a dad. It's a faux pa.

| | |
| --- | --- |
| ASIN: B00KN0JEYA | |

Go ahead and admit it. You're smiling. Even though most dad jokes are not funny, we do end up laughing at them for some reason. According to Merriam-Webster Dictionary, who added the words dad joke to their dictionary in 2019, the meaning is:



A wholesome joke of the type said to be told by fathers with a punchline that is often an obvious or predictable pun or play on words and usually judged to be endearingly corny or unfunny.



Since dad jokes have their own dictionary meaning now, it sounds like they're sticking around for a long time, so you might want to start laughing or groaning now. What's that? You don't want to come over to the Dad Joke side. Consider these facts: #dadjoke remains one of the most popular hashtags used on Twitter. Also on Twitter, @BadDadJokes has more than 55,000 followers and if you can believe it, there's a Twitter account called, @DadJokeHanSolo, with 52k in followers—that's a lot of dad jokes.

These types of jokes are often based on puns and presented as a one-liner or a question and answer. Most kids grew up hearing them a lot and probably the same one over again. I can remember my dad while he made coffee, he would always announce, 'did you know, bad coffee is grounds for divorce.' I still shake my head and laugh at it. Dad jokes are meant to be inoffensive and said with sincere humorous intent to provoke a negative reaction to the simplistic humor.

Dad jokes are so popular that in 2017 a YouTube video series called, 'Dad Jokes' pits two dads, comedians, or celebrities together to tell a bunch of dad jokes, but the rules is, you can't laugh. Most times, this does not go well and everyone starts laughing — including the one viewing the video.

The next time you want to entertain people, consider some quick dad jokes, or have your next character have the habit of telling them at every opportunity. I have to run because spring has finally sprung in Canada. I got so excited I wet my plants. I should start my own #momjoke on Twitter.

Here are few comedy morsels about dad jokes to make you laugh or groan!
A dad joke from his life. By: Jeff

"Note: My son comes out of his room t..."


An entry from "Smile! (Groan?) You Know You Love These!"
by 🛸 Sum1 🗿

"Dad Joke 1"
YouTube Video Dad Jokes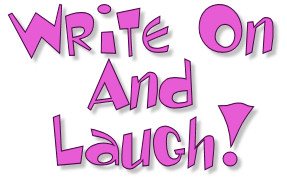 Funny items about Dad.






















Have an opinion on what you've read here today? Then send the Editor feedback! Find an item that you think would be perfect for showcasing here? Submit it for consideration in the newsletter!
https://Writing.Com/main/newsletters/action/nli_form



Don't forget to support our sponsor!




| | |
| --- | --- |
| ASIN: B07YJZZGW4 | Kindle |
| | |
| --- | --- |
| ASIN: 0996254145 | |
| | |
| --- | --- |
| ASIN: 0997970618 | Book |

Do you laugh, groan, roll your eyes at dad jokes? Have you heard any good ones lately? The funniest dad joke will win a 'Queen of Comedy' merit badge!

In my last newsletter, "Animal Characters for Comic Relief"
I asked the question: If you had to write about a funny animal in a story, which would you choose? Do you have a favorite pet/animal?

There were some fun answers from the newsfeed. You can read them here:
"Note: View this Note"


Feedback:

From eyestar-Congrats Quill folks.
: Wow! I had fun reading this as I love animal characters! Showing examples of the three ways to use animals in comedy is instructive too. Well done!
Thanks, Mona! It was a fun one to write.
Reminder: If you have topic for the Comedy newsletter, fill out the survey below. If I use your idea for a newsletter, you'll win a 'Queen of Comedy' MB!
"Comedy Newsletter Input"



To stop receiving this newsletter, click here for your newsletter subscription list. Simply uncheck the box next to any newsletter(s) you wish to cancel and then click to "Submit Changes". You can edit your subscriptions at any time.