This week: Amy Levy

Edited by: Stormy Lady
More Newsletters By This Editor



1. About this Newsletter
2. A Word from our Sponsor
3. Letter from the Editor
4. Editor's Picks
5. A Word from Writing.Com
6. Ask & Answer
7. Removal instructions



This is poetry from the minds and the hearts of poets on Writing.Com. The poems I am going to be exposing throughout this newsletter are ones that I have found to be, very visual, mood setting and uniquely done.
Stormy Lady

| | |
| --- | --- |
| ASIN: B07YXBT9JT | |

The Old Poet
by Amy Levy

I will be glad because it is the Spring;
I will forget the winter in my heart--
Dead hopes and withered promise; and will wring
A little joy from life ere life depart.

For spendthrift youth with passion-blinded eyes,
Stays not to see how woods and fields are bright;
He hears the phantom voices call, he flies
Upon the track of some unknown delight.

To him the tender glory of the May,
White wonder of the blossom, and the clear,
Soft green leaves that opened yesterday,
This only say: Forward, my friend, not here!

They breathe no other messages than this,
They have no other meaning for his heart;
Unto his troubled sense they tell of bliss,
Which make, themselves, of bliss the better part.

Yea, joy is near him, tho' he does not know;
Her unregarded shape is at his side,
Her unheard voice is whispering clear and low,
Whom, resting never, seeks he far and wide.

So once it was with us, my heart! To-day
We will be glad because the leaves are green,
Because the fields are fair and soft with May,
Nor think on squandered springtimes that have been.

London in July
by Amy Levy

What ails my senses thus to cheat?
What is it ails the place,
That all the people in the street
Should wear one woman's face?

The London trees are dusty-brown
Beneath the summer sky;
My love, she dwells in London town,
Nor leaves it in July.

O various and intricate maze,
Wide waste of square and street;
Where, missing through unnumbered days,
We twain at last may meet!

And who cries out on crowd and mart?
Who prates of stream and sea?
The summer in the city's heart--
That is enough for me.


On November 10th, 1861 Lewis Levy and Isobel Levin, welcomed daughter Amy Levy into their family. Amy was the second child of seven. She was raised in a middle-class, Jewish household. From a very early age Amy's family had her and her siblings involved in writing, reading, and putting on plays. They would publish a magazine that included Amy's poetry and plays. At the age of 15 Amy left home to study at Brighton High School. In 1879 Levy became the second Jewish woman to enroll in Cambridge University and the first Jewish woman to enroll at Newnham College. She lived on her own in a small apartment, but her family visited often. She withdrew from college a few years later.

In 1880 Amy published her first book of poetry, "Xantippe and Other Verses." Amy surrounded herself with young literary men and women with Socialist ideals. Levy had very strong feminist views and was often very outspoken about her beliefs. She had stopped practicing Judaism but still considered herself Jewish. Amy began to battle periods of depression in her early twenties. Though her mental health had ups and downs, she continued to travel Europe and write. She spent most of her travels between Germany, Switzerland and London. She contributed her poems to be published at different magazines during these years.

Her second book of poetry was "A Minor Poet and Other Verse," published in 1884. In 1886 Levy went to Florence to write a series of articles for the Jewish Chronicle. While in Florence she met and befriended writer Violet Page and poet Dorothy Blomfield. In 1988 Amy published her first novel "The Romance of a Shop," followed by "Reuben Sachs, A Sketch" which was not well received by the Jewish community. Her next book of poetry was published "A London Plane-Tree and Other Verse."

In 1889 Levy published her third novel "Miss Merideth." Earlier that year, Levy started going deaf, this added to her battle with depression. Even though Amy surrounded herself with many friends, her struggle with depression won out in the end and her mental health failed. She was only twenty-eight years old when she locked herself in a room and inhaled charcoal fumes. Her mother and her sister found her hours later, Amy Levy died on September 10, 1889.

At a Dinner Party
By Amy Levy


With fruit and flowers the board is decked,
The wine and laughter flow;
I'll not complain—could one expect
So dull a world to know?

You look across the fruit and flowers,
My glance your glances find.—
It is our secret, only ours,
Since all the world is blind.


A Wall Flower
by Amy Levy

I lounge in the doorway and languish in vain
While Tom, Dick and Harry are dancing with Jane

My spirit rises to the music's beat;
There is a leaden fiend lurks in my feet!
To move unto your motion, Love, were sweet.

Somewhere, I think, some other where, not here,
In other ages, on another sphere,
I danced with you, and you with me, my dear.

In perfect motion did our bodies sway,
To perfect music that was heard alway;
Woe's me, that am so dull of foot to-day!

To move unto your motion, Love, were sweet;
My spirit rises to the music's beat--
But, ah, the leaden demon in my feet!




Thank you all!
Stormy Lady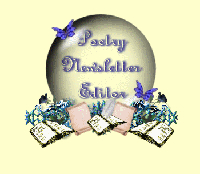 ~~~~~~~~~~~~~~~~~~~~~~~~~~~~~~~~~~~~~~~~~~~~~~~~~~



~~~~~~~~~~~~~~~~~~~~~~~~~~~~~~~~~~~~~~~~~~~~~~~~~~
The winner of "Stormy's poetry newsletter & contest"
[ASR] is:

"Cleansing flames [Stormy's poetry newsletter/contest [3/23]"


Cleansing flames


The box I had hidden from you -
sealed tightly and kept out of view -
sits high up on top of the shelf;
within it old bits of myself.

The closet wherein it lay hid
held secrets since I was a kid,
a storehouse unique in itself;
within it old bits of myself.

A healing complete and profound
at last, after years, I have found.
It followed my fight to true health;
within it old bits of myself.

Grim treasures I once greatly prized
I see now are rightly despised.
Bright flames eat that box from the shelf;
within it old bits of myself.

Honorable mention:

Lots Of Us (E)
Are we a great many, or just a lot?
#

2292217

by greenpan... sleeping awake
Garland of experiences (E)
A free verse for the Stormy's Poetry Newsletter Contest.
#

2292605

by Koyel~writing again

~~~~~~~~~~~~~~~~~~~~~~~~~~~~~~~~~~~~~~~~~~~~~~~~~~

~~~~~~~~~~~~~~~~~~~~~~~~~~~~~~~~~~~~~~~~~~~~~~~~~~


These are the rules:

1) You must use the words I give in a poem or prose with no limits on length.

2) The words can be in any order and anywhere throughout the poem and can be any form of the word.

3) All entries must be posted in your portfolio and you must post the link in this forum, "Stormy's poetry newsletter & contest"
[ASR] by April 15, 2023.

4) The winner will get 3000 gift points and the poem will be displayed in this section of the newsletter the next time it is my turn to post (April 19, 2023)

The words are:



sunshine green grass swaying branches bird sing spring
Good luck to all
~~~~~~~~~~~~~~~~~~~~~~~~~~~~~~~~~~~~~~~~~~~~~~~~~~

~~~~~~~~~~~~~~~~~~~~~~~~~~~~~~~~~~~~~~~~~~~~~~~~~~

It's just a pebble ... but ... (E)
The things we keep
#

2291652

by fyn
Without Words, Where Would We Be (E)
How would life exist without words and stories?
#

2292306

by 💙 Carly
The Lonely Man Who Sat Alone (13+)
Written for the Honoring Our Veteran's Forum Monthly contest
#

2291791

by Sum1

~~~~~~~~~~~~~~~~~~~~~~~~~~~~~~~~~~~~~~~~~~~~~~~~~~


~~~~~~~~~~~~~~~~~~~~~~~~~~~~~~~~~~~~~~~~~~~~~~~~~~

Toward Tomorrow (E)
A poem in Cyhydedd Hir form (described below the poem) about love.
#

2291775

by Dan I Am
Midnight (18+)
A wraith seeks vengeance in the town. Winner of Horror Writing Contest, March 2023.
#

2292182

by Beholden
Our Sacred Hearts (E)
Writing, God, love and inspiration.
#

2292275

by Spiritual Dawning

~~~~~~~~~~~~~~~~~~~~~~~~~~~~~~~~~~~~~~~~~~~~~~~~~~


~~~~~~~~~~~~~~~~~~~~~~~~~~~~~~~~~~~~~~~~~~~~~~~~~~

The Cycle of Sorrow (E)
A poem about the cycle of the world.
#

2291304

by Gus Beecher
Envelopes (E)
A 40-word-poem
#

2292405

by Evie123
Dragon Changing Scales (E)
A brief poem. Have you ever stopped to listen?
#

2292450

by Louis Williams

~~~~~~~~~~~~~~~~~~~~~~~~~~~~~~~~~~~~~~~~~~~~~~~~~~





Have an opinion on what you've read here today? Then send the Editor feedback! Find an item that you think would be perfect for showcasing here? Submit it for consideration in the newsletter!
https://Writing.Com/main/newsletters/action/nli_form



Don't forget to support our sponsor!




| | |
| --- | --- |
| ASIN: B07B63CTKX | |


| | |
| --- | --- |
| ASIN: B083RZ37SZ | |



To stop receiving this newsletter, click here for your newsletter subscription list. Simply uncheck the box next to any newsletter(s) you wish to cancel and then click to "Submit Changes". You can edit your subscriptions at any time.