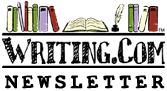 Romance/Love





This week: A close look at the Romantic Hero

Edited by: Lonewolf
More Newsletters By This Editor



1. About this Newsletter
2. A Word from our Sponsor
3. Letter from the Editor
4. Editor's Picks
5. A Word from Writing.Com
6. Ask & Answer
7. Removal instructions






Welcome to this week's Romance/Love Newsletter. My name is Lonewolf


I was in search of what it took to create a romantic hero for the novel I'm currently writing, and found a couple of places that really helped me so I thought I would share that what all of you.



| | |
| --- | --- |
| ASIN: B01IEVJVAG | |



I have been planning to write a book for some time now, and as with all writing one must do research, so I went in search of information regarding a romantic hero. I wondered what characteristics make up a romantic hero, and I was immediately sent to wikipedia which gave me a somewhat understanding of what I would use to create such a hero for my story. So, after gathering a few of the different places I visited I came up with the following.





How to Develop a Romance Hero


1. Visualize your hero.

2. Think about real men you know or have seen whose characteristics you can blend to model your hero.

3. Develop a character study sheet, listing his physical and psychological traits and his personal history. Use it for reference as you write your romance novel.

4. Understand completely your hero's motivation.

5. Give him qualities that make your hero readily identifiable as an average person, yet allow him to be heroic and honorable.

6. Give him no flaws from which he cannot be redeemed, either by himself or by the heroine.

7. Fall a little bit in love with your hero, so that you can write about him with passion.

8.Write, write, rewrite and rewrite. Hone your novel, and the character study that is your hero, to perfection.

http://www.ehow.com/how_16763_develop-romance-hero.html


A romantic hero, particularly a Romance Novel hero, usually has certain characteristics:

While heroes come in various shapes and sizes, A romantic hero is always physically fit. Specifically, he is fit as a result of leading an active life, not as a result of attending a gym. He is always at least toned and nicely muscled.

A romantic hero never has a boss. That is, although there may be person whom he answers to, he is never supervised on a day-to-day basis. He is always more or less a free agent.

A romantic hero has useful female relatives. He always has in-laws, sisters, a mother, etc. whom it is useful for the heroine to know. When the heroine becomes romantic with the hero, she is hooking into an entire social network. Although the hero might seem to be a loner, in fact he never is.

A romantic hero's subordinates have women. When the heroine becomes romantic with the hero, she becomes boss of the women whose men the hero is boss of. More generally - to a woman, a man (even a romantic hero) is a cypher. The real focus is on other women and the relationships between the heroine and them.

A romantic hero has shiny shoes. Particularly in historical romances. he might be stranded on a desert island or in a remote windswept Scottish castle, but his shoes are always immaculately buffed. God knows by whom. More generally, a romantic hero is a snappy dresser—subject to the whims of fashion. Eddie Vedder was a snappy dresser in his own way.

Before romance, the clothes. Before anything romantic ("Romantic" means "sexual") happens—whether a kiss and a hand-hold or a marathon sex session, we are always told exactly what the hero and heroine are wearing. It can be instructive to get a cheap romance novel and highlight all passages that concern themselves with descriptions of clothing. The completeness and economy with which these authors can describe an outfit is amazing.

A romantic hero has a woman in his past. Specifically, a woman whose place the heroine can occupy. The heroine almost never has to carve out a place of her own, because a romantic hero always has an emotional vacancy. He may be a widower, he may have been hurt in some way by a woman who is no longer around, he may have cared for a female relative who slowly died of tuberculosis. The heroine always has to battle - sometimes even literally - this woman. The climax of a romantic novel is when the hero somehow - in some manner - says "I love you more than I ever loved her".

http://tvtropes.org/pmwiki/pmwiki.php/Main/RomanceGenreHeroes



My Dear Wife, Dorothy (ASR)
When a husband arrives at his wife's office, he's told she no longer works there.
#

1039519

by Shaara
Love (E)
An old poem that I lost with my old upgrade, and one of my favorites.
#

744982

by Publius
Invalid Item
This item number is not valid.
#

859792

by Not Available.
Ch.2 The Oracle (13+)
REVISED: Now contains Lucifer, Kizuato, and Ketsueki!
#

1086423

by Neko ♥ Away
Love Again (E)
Loving is both pleasure and pain
#

1413559

by Jeanne Riggs Workman
To Romeo, From Juliet (E)
A sonnet written from Juliet's perspective in the final act of the famous play.
#

1719761

by Nessie<3



Have an opinion on what you've read here today? Then send the Editor feedback! Find an item that you think would be perfect for showcasing here? Submit it for consideration in the newsletter!
https://Writing.Com/main/newsletters/action/nli_form



Don't forget to support our sponsor!




| | |
| --- | --- |
| ASIN: B083RZJVJ8 | |


| | |
| --- | --- |
| ASIN: B01FST8A90 | |



To stop receiving this newsletter, click here for your newsletter subscription list. Simply uncheck the box next to any newsletter(s) you wish to cancel and then click to "Submit Changes". You can edit your subscriptions at any time.