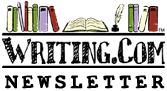 Action/Adventure





This week: Choose Your Own Adventure

Edited by: Lonewolf
More Newsletters By This Editor



1. About this Newsletter
2. A Word from our Sponsor
3. Letter from the Editor
4. Editor's Picks
5. A Word from Writing.Com
6. Ask & Answer
7. Removal instructions





Looking to get your feet wet with creative writing but don't have the time or energy to pen an entire book? Creative plot-lines just not forthcoming? Well, look no further. The answer to your problem lies with the interactive story.

It is this genre that I would like to explore in this weeks Newsletter. I'm Lonewolf
and it is a pleasure to be your Editor this week.



| | |
| --- | --- |
| ASIN: B07K6Z2ZBF | |

Have you ever heard of the Choose Your Own Adventure series? In a Choose Your Own Adventure book, after reading for a bit, the book would ask you what you wanted to do next, and send you to a certain page to continue reading.

Interactive stories, such as those in Choose Your Own Adventure or Lone Wolf books, are much trickier to write than you would imagine. A fine balance has to be maintained between giving the reader choices and fragmenting the story until it becomes hard to read. In addition, it is necessary to create several concurrent stories all within the same project.

Writing a choose-your-own-adventure (a.k.a. pick-your-own-path) story can be a great deal of fun and an interesting experience for a writer. Here at WdC we call them Interactives
but there are a few issues that can come up from this type of story that you won't face in your more typical story. Understanding them can give you the opportunity to write things that aren't typically available to a writer.

Create a basic flowchart with the entire story on it. Take the main line of the story and create branches that both return to the main narrative and terminate either as a loss (like the death of the protagonist or the success of the antagonist) or at a neutral ending (the goal of the story was reached but it was either incomplete or unsatisfied). Once you have set up your main and secondary stories you can begin to further refine your overall plan.

Another thing to keep in mind is that people will be reading your story numerous times in order to find different paths. This leads to two general issues you will want to focus on.
The first couple pages should be quick and interesting, but it is also useful to add foreshadowing. put in hints of what is happening and inside jokes that they won't get the first time through, this will add something to the later reads.

Make the reader's choices have a direct impact on the action of the story. If the reader is given a choice between going left or right, with no information to base their decision on, do not make one way arbitrarily lead to his death and one to success. If there is a trapdoor down the left-hand path have a mechanism for discovering the trap and returning to the right-hand path.

Encourage situations where the reader needs to make important decisions and avoid having them make unnecessary choices. Giving the choice to flee an area or search a room is fine, but requiring the reader to specifically choose how to flee or what areas of the room to search first is becoming too specific.

Narratives based around the popular "Choose Your Own Adventure" style of writing are abound on Writing.com and many of them are looking for contributors to compose a little or a lot. Don't want to contribute to someone else's tale? Write your own!






The winner of my little contest is the amazing platinumbwords with

Invalid Item
This item number is not valid.
#

1882929

by Not Available.
If I didn't ask for a hero, I sure as hell didn't want to be one. I lived my life as everyone did since the Revolution ended fifteen years: in the shadows, head down, eyes downcast. Then again, if I had been staring at the sky dully, perhaps I never would have beheld the sight that forced my feet to stop moving in steady rhythm with the typical foot-traffic. People headed forward down the block, as if in line at the supermarket checkout, and my stopping did not impede those behind me as they merely shifted slightly to my left or right, their shoulders brushing past as they continued on their way.

On most days, I would have been no different from the lot of them, but this time the person lying in the middle of the street had a face that called out to me like the shout of an old friend. A tug at my memory stopped me in my tracks, the smile of a then-healthy girl at a playground's jungle gym. "Here, Row, catch me if you can!" the girl taunted before gliding down the metal slide. Swollen sores covered the young woman's visible skin now, more so her arms and lower legs than her face, which allowed me to recognize the familiar features. The aquiline nose, wide pouty lips, strong chin and cheekbones, and curved, expressive eyebrows betrayed a bold beauty even at this stage of sickness.
Invalid Item
This item number is not valid.
#

1778282

by Not Available.
Invalid Item
This item number is not valid.
#

1339873

by Not Available.
Mystical Forest (13+)
Choose your destiny in this fantasy adventure
#

609481

by Cloud Zero is Rising Up
Invalid Item
This item number is not valid.
#

1883579

by Not Available.
Invalid Item
This item number is not valid.
#

1835646

by Not Available.
Invalid Item
This item number is not valid.
#

1534330

by Not Available.
Learning to Fly (13+)
James Walker finds himself among the fabled Misterian race of angels after a heroic act.
#

1810181

by Onlyonekey
Invalid Item
This item number is not valid.
#

1884420

by Not Available.



Have an opinion on what you've read here today? Then send the Editor feedback! Find an item that you think would be perfect for showcasing here? Submit it for consideration in the newsletter!
https://Writing.Com/main/newsletters/action/nli_form



Don't forget to support our sponsor!




| | |
| --- | --- |
| ASIN: B083RZJVJ8 | |


| | |
| --- | --- |
| ASIN: 1542722411 | Book |



To stop receiving this newsletter, click here for your newsletter subscription list. Simply uncheck the box next to any newsletter(s) you wish to cancel and then click to "Submit Changes". You can edit your subscriptions at any time.