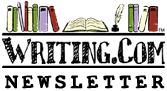 Noticing Newbies





This week: FAN-tastic

Edited by: Jace
More Newsletters By This Editor



1. About this Newsletter
2. A Word from our Sponsor
3. Letter from the Editor
4. Editor's Picks
5. A Word from Writing.Com
6. Ask & Answer
7. Removal instructions





Hi, I'm Jace
.

Welcome to this issue of the Noticing Newbies newsletter. Join me as I take you into some nooks and crannies of Writing.Com that you may not have found time to check out yet.

Don't forget to toss me a note about what you liked or didn't like in my column, or about a topic you'd like to see discussed. This newsletter is about and for you. And for you seasoned members, I hope you'll find something you can take from my ramblings.
Your Noticing Newbies Newsletter full-time Editors:

| | |
| --- | --- |
| ASIN: B07P4NVL51 | Toy |



Two issues ago, my Noticing Newbies topic was Inside Your Portfolio, in which I talked generally about the various tabs that each Port has. These tabs contain all the information that is you on Writing.Com. You can include as much or as little information as you wish to be revealed, not only to other WDC members, but also to the entire world. In many cases, access to what can be viewed may be limited only to site members.

I'd like to talk about Fans and Favorites. There are a couple of entries in the WDC Reference Guide, "Writing.Com 101"
that deal with this topic--"Fans Tab"
and "My Favorites and Fans"
.

Opening the Fans Tab displays two things--Writing.Com members who are fans of you, and Writing.Com members and items for which you've become a fan. Click on that tab and you'll see two distinct columns. For example, my first column shows 84 WDC members who are a fan of mine. My second column displays both a number of members (19) AND items or forums (8) of which I'm a fan.

Several icons are used to display the various levels of a Fan. Please note the appearance of several icons in the upper right corner of any member's Bio-Block. The first is a Portfolio icon (as explained in "Portfolio Icons"
), the second is an Email icon (as explained in "Email"
), the third is a Fan/Favorite icon originally indicated by

, and a fourth icon denoting the ability to send the member an Instant Message. These icons are also displayed after certain instances of a member's Username.

Clicking on the

one time will change the icon to a

. This declares the member or item as a Favorite, which will then be added to your Favorites list allowing you to place that member or item into any active folder within your Favorites. You can access your Favorites by clicking on the

located in the upper left corner under your Portfolio information, clicking on the Manage / More link below the Favorites listing in the upper right column, or selecting Favorites under My Account in the Navigation menu.

The white hand will become a
when you click on it thereby becoming a fan of that member or item. Becoming a Fan is a more public display of your interests, whereas a Favorite is a more private representation. These icons are dynamic, meaning you can toggle back and forth between them by clicking on each icon. Should you desire to remove your Fan or Favorite designation of a given member or item, simply open the My Favorites window and click on the X located beside the item you wish to update. Click to confirm the deletion and you're done.

The decision to become a fan of a particular member or item is a personal one with reasons as varied as there are members. Just because one member has Fan'd (
) you doesn't mean you must become a fan of that member. The reverse also holds true. You shouldn't expect that because you Fan'd a member that he or she must fan you in turn.

One last thing, you can choose who may see your fans by clicking on the Manage Fans link at the top of the Fans tab. Select the access you desire from the drop-down window and then hit Close Manager.

Remember to check out "Writing.Com 101"
for more information on this, or any subject relating to Writing.Com.





Check out these Newbies (I've selected folks who have filled out their Biography or something in their Bio-Block). Take a moment to review something in their Port ... or just say hi.

Tiny Dancer (13+)
A bit of a twist
#

2017969

by Linda56
Invalid Item
This item number is not valid.
#

2016887

by Not Available.
Invalid Item
This item number is not valid.
#

2017951

by Not Available.
Invalid Item
This item number is not valid.
#

2017232

by Not Available.
God's Choice (E)
With creation completed, God must decide which season will emerge on the first day.
#

2017125

by Cornhusker
Dear Best Friend. (E)
This is a letter to my best friend whom isn't going to be here much longer..
#

2017882

by Your Juliet
But (E)
Surviving, but with buts.
#

2017871

by Megs Brink



Have an opinion on what you've read here today? Then send the Editor feedback! Find an item that you think would be perfect for showcasing here? Submit it for consideration in the newsletter!
https://Writing.Com/main/newsletters/action/nli_form



Don't forget to support our sponsor!




| | |
| --- | --- |
| ASIN: B01FST8A90 | |



And from the mailbox about my last Noticing Newbies newsletter, "Inspiration on the Road"
.

From Lornda
: I enjoyed reading your newsletter! The pictures you included for inspiration were beautiful, and I laughed at the one with the kid on his dad's shoulders.
The point you made about pictures inspiring us to write is so true! I always find people-watching an awesome way to get inspired to write some comedy pieces. But it's true, just look around you, or even at your own life, and you'll be surprised what you are inspired to write! Have fun sorting through those photos.
Great newsletter topic.
Thank you for your kind words.
Decades of people-watching and I still never tire of it.



From Connieann loves to write!
: I love your newsletters. They always seem to answer questions I should have asked but forgot to. Thanks for the answers
.




From Teerich - 2019
: This is a great impetus for writers to get out and look at the world. It makes it easier to write about it if you have experienced it. Inspiration can, and does strike at any time. Give it more opportunities to be sparked off. Your pictures are a perfect example of this.



Experience certainly helps. But lately, I've enjoyed "thinking" about how such an experience might have worked for me. Now that adds a dimension to my writing.



From S.z.kamoonpuri
: Hi. I like the static item elucidation features and the asking for review system I guess.
Regards n cheers.



I appreciate your comment.

| | |
| --- | --- |
| ASIN: B07YJZZGW4 | Kindle |



To stop receiving this newsletter, click here for your newsletter subscription list. Simply uncheck the box next to any newsletter(s) you wish to cancel and then click to "Submit Changes". You can edit your subscriptions at any time.