Printed from https://www.writing.com/main/newsletters/action/archives/id/7273-Tis-the-Season-No-Not-That-Season.html
Noticing Newbies: October 21, 2015 Issue [#7273]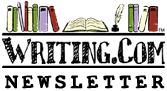 Noticing Newbies





This week: Tis the Season... No Not That Season

Edited by: ember_rain
More Newsletters By This Editor



1. About this Newsletter
2. A Word from our Sponsor
3. Letter from the Editor
4. Editor's Picks
5. A Word from Writing.Com
6. Ask & Answer
7. Removal instructions





I am a stay at home, dyslexic, homeschooling mother of 6. I only ever wanted three things in my life.. A good husband, wonderful kids and to be a writer.

High School gave me the chance to find my husband Clanbear
. The Universe blessed us with a good marriage and awesome kids. WDC gave me a chance to at least feel like a writer. They embraced me with all my writing flaws and gave me the chance to do this newsletter every month despite my obvious shortcomings.

Friends have jokingly suggested that I drank the WDC kool-aide. I will happily agree. I did and I am so glad I did. Here is to all of our new members finding their writing home with us as well.



| | |
| --- | --- |
| ASIN: B01DSJSURY | |



I woke up October 1st with a sensation of both excitement and dread. The air was unseasonably warm but it still had the crisp smell of fall. The leaves were falling all over the yard, the squirrels were playing chase with the cats. I came inside to refresh my coffee and log into WDC. I had work to do. It was the first day of "October NaNoWriMo Prep Challenge"
Being the Head cheerleader I had writing quotes to post, demotivators to post and people to cheer on. I also had assignments to do.

For those who have never heard of National Novel Writing Month you can find info at "The WDC NanoLounge"
. You might not want to brave it now but eventually you will. I like to think of Nano as the novel writers Christmas. There is so much to do..Cookies to bake by doing dares, gifts to give yourself in terms of word count goals, games to play, parties to go to. But more importantly, its the one time each year where you can feel as though every writer in the world has one goal... To win Nano...

What is beautiful about it, is we aren't in competition with each other. We can all win. We can cheer each other on. The excitement is contagious. It is my view that no writer has truly lived until they have tried to write 50k in a month. You don't know what you can do. Not really, not until you try.

I really drank the kool-aid on this one since this year I am hoping to have a 50k day one and hit 250k for the month. That will put my lifetime achievement at 1 million words over every November for the last 11 years.

The smell of creativity is in the air. It flutters around us all and you will see it happening before you as everyone flutters around asking for help with research and celebrating word counts.

What's the point you ask? To raise money for literacy for one thing. The Office of Letters and Light hosts NANOWRIMO each year.

What's in it for you? A chance to put your rear in a chair and write every day. You know that goal that lead you here. The one that said, I would like to be considered a writer, maybe I can learn how to stick to a longer story if I join this website.

This is the marathon you have been missing and didn't even know. It is far from too late to join. WDC even has its own Nano Counter and "NaNoWriMo Write-A-Thon"
to raise money for the groups here.

Do you have enough of a sense of adventure to dive down the rabbit hole? You never know what you might learn about yourself as a writer if you do.





This week I am going to share some of our great Novels on WDC just because we rarely do and it's Nano Season!


Weathered Wings (18+)
An epic tale of 5 soldiers involved in a war between humanity and a powerful alien race.
#

1564574

by R. Frink
Invalid Item
This item number is not valid.
#

2061480

by Not Available.
Invalid Item
This item number is not valid.
#

2051326

by Not Available.
A Child's Courage. (13+)
Never underestimate the courage of a child.
#

2043608

by Scifiwizard
Invalid Item
This item number is not valid.
#

2060865

by Not Available.
Invalid Item
This item number is not valid.
#

2051495

by Not Available.
Descendants of Rose (13+)
Two mercenaries, a bard, a warlock, and a couple of ancient memories of an immortal lord.
#

2025126

by Antonia Ryder



Have an opinion on what you've read here today? Then send the Editor feedback! Find an item that you think would be perfect for showcasing here? Submit it for consideration in the newsletter!
https://Writing.Com/main/newsletters/action/nli_form



Don't forget to support our sponsor!




| | |
| --- | --- |
| ASIN: B083RZ37SZ | |



So would you ever consider doing Nano?


| | |
| --- | --- |
| ASIN: B000FC0SIM | |



To stop receiving this newsletter, click here for your newsletter subscription list. Simply uncheck the box next to any newsletter(s) you wish to cancel and then click to "Submit Changes". You can edit your subscriptions at any time.



Printed from https://www.writing.com/main/newsletters/action/archives/id/7273-Tis-the-Season-No-Not-That-Season.html