Printed from https://www.writing.com/main/newsletters/action/archives/id/7456-Getting-to-Know-WritingCom.html
Noticing Newbies: February 03, 2016 Issue [#7456]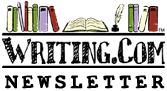 Noticing Newbies





This week: Getting to Know Writing.Com

Edited by: Jace
More Newsletters By This Editor



1. About this Newsletter
2. A Word from our Sponsor
3. Letter from the Editor
4. Editor's Picks
5. A Word from Writing.Com
6. Ask & Answer
7. Removal instructions





Hi, I'm Jace
.

Welcome to this issue of the Noticing Newbies newsletter. Join me as I take you into some nooks and crannies of Writing.Com that you may not have found time to check out yet.

Don't forget to toss me a note about what you liked or didn't like in my column, or about a topic you'd like to see discussed. This newsletter is about and for you. And for you seasoned members, I hope you'll find something you can take from my ramblings.
Your Noticing Newbies Newsletter full-time Editors:

| | |
| --- | --- |
| ASIN: 1542722411 | Book |

Getting to Know Writing.Com



This issue is a take off from an article by Eric Vance Walton I read recently on AuthorsPublish.com entitled "10 Things I Wish I Knew as a Beginning Writer." Walton raises some good points. Then I remembered my first few months on Writing.Com thinking how nice it would have been to have someone guide me through the intricacies of this site.

1. Learn the fundamentals of WDC. Learning to navigate this site can be daunting. There are a lot of features here for both free and paid members. You can rely on the good graces of seasoned members to help you. Or, you can strike out on your own at first, poking into the various nooks and crannies each time you log on. Check out the "Get Started With Your Account"
link initially to set up your Portfolio. You may have been here for several weeks or months by the time you read this. Still, this section may how you something you hadn't considered. Take a few minutes and check out a different resource . I've always found trial and error to be my best way to learn. On the other hand, we have lots of forums ("Writing.Com 101"
, "Non-Technical Support Forum"
, "Writing.Com General Discussion"
) to provide assistance to those who like more personal guidance. My point: learn how to navigate the site.

2. Use all feedback. You desire feedback on your work. Any review you receive is just one person's opinion of your work at that point in time. You can use as much or as little of the feedback as you wish. Most reviews are given with the intent of being constructive and helpful. You should return the same. In rare cases, some folks abuse the system (just to get gift points or to rack up review numbers). Report such reviews as needed. Giving and receiving constructive feedback is essential to becoming better writers. Start doing this early and you'll reap enormous benefits.

3. Diversify. You probably joined WDC to focus on writing in a certain genre. Nothing wrong with that. But don't discount the overall growth you may achieve by checking out alternative genres, styles and writing forms. I joined as a writer of romance and erotica. Through my interaction with other members, I've since written stories in more than a dozen other genres and have written more than 60 poems Each time I branched out, I deepened my passion for writing. In addition, I gained more friends and a wealth of knowledge about writing in general.

4. Overcome your shyness. Perhaps you are like I was--an introvert by nature. Writing is such a personal journey. If you're serious about writing, you need to be ready to talk about your passion with anyone and everyone. Network with other writers, share your thoughts on the subject and absorb any knowledge and wisdom you can get from them. Take what you can and make it your own. You are not only your worst critic, but also your best advocate.

Writing.Com is a tool to help you become a better writer. Use it , and succeed. Write on!



Check out these Newbies. Take a moment to review something in their Port ... or just say hi.

Family Tradition (13+)
Nothing says Christmas like a bit of crime.
#

2071350

by AshleyMaeBigs
Sight (E)
A poem of mine. Requesting reviews.
#

2073769

by Atiqa Akbar
Invalid Item
This item number is not valid.
#

2073716

by Not Available.
Ruins (E)
The mental process of packing up from a past relationship
#

2073664

by -MD
SHE (E)
Heaven? Goddess?
#

2073526

by Nish
Bad Boys Games (E)
bad boys ain't no good and good boys ain't no fun
#

2073408

by PrettyKitty
Scattered Dreams (E)
A woman who feels like she has lost everything receives some hope.
#

2073352

by Alyssa Karasek



Have an opinion on what you've read here today? Then send the Editor feedback! Find an item that you think would be perfect for showcasing here? Submit it for consideration in the newsletter!
https://Writing.Com/main/newsletters/action/nli_form



Don't forget to support our sponsor!




| | |
| --- | --- |
| ASIN: B083RZJVJ8 | |



And from the mailbox about my last Noticing Newbies newsletter, "Little Steps"
. Alas, there was no feedback on my last issue.

| | |
| --- | --- |
| ASIN: B01IEVJVAG | |



To stop receiving this newsletter, click here for your newsletter subscription list. Simply uncheck the box next to any newsletter(s) you wish to cancel and then click to "Submit Changes". You can edit your subscriptions at any time.



Printed from https://www.writing.com/main/newsletters/action/archives/id/7456-Getting-to-Know-WritingCom.html