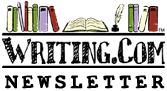 Poetry





This week: Getting Ready For National Poetry Month

Edited by: RedWritingHood♡WDC
More Newsletters By This Editor



1. About this Newsletter
2. A Word from our Sponsor
3. Letter from the Editor
4. Editor's Picks
5. A Word from Writing.Com
6. Ask & Answer
7. Removal instructions



"What makes a good poem? Brevity, terseness, spareness, viewing something new for the very first time, creating an image like no one has ever been blown away by before in their entire life."
Lee Bennett Hopkins
"A poem is a communication from one soul to another that makes one or both hearts sing."
Walter Mayes
Painting is silent poetry, and poetry is painting with the gift of speech.
Simonides (556 BC - 468 BC)

| | |
| --- | --- |
| ASIN: B07P4NVL51 | |



Getting Ready For National Poetry Month




April is National Poetry Month and this year will mark twenty years! How you prepare really depends on the ways you'd like to celebrate.

I like the contests, best so I need time to research and plan for each one I want to enter, and February and March is usually when I start preparing for the festivities.
Let's go over some ways you can celebrate poetry to help with your poetry month plans!


Read Poetry

--Read alone, in pairs or in groups.
You can just freely explore, decide on a theme, a particular author, time period and more!

--Read a poem each day.
This could be difficult logistically for a group unless you come up with a plan to commit to reading a poem each day and meeting less often, or you decide to meet online, or other digital, video or phone methods to share or discuss the poems.

--On April 21st it's Poem in Your Pocket Day, where you select a poem to keep in your pocket and share it throughout your day: https://www.poets.org/national-poetry-month/poem-your-pocket-day


Write Poetry

--Write alone, in pairs or in groups.
Again, consider logistics when you make your plans.

--Write a poem each day.
Search "poem a day" in your favorite search engine and you'll find inspiration and places to read and post your poetry.

--Enter a poetry contest (or two or three!)
You don't need to go far for poetry contests. WDC is full of great poetry contests, but don't stop there. Look for contests attached to National Poetry Month events in your area.


Poetry Party

Events can usually be found through poetry groups, writing groups, schools, libraries and art groups.

--Attend or host a local poetry reading, poetry slam or open mic.
--If you live in the USA you can put in your zip code at this link and find a poetry event near you: https://www.poets.org/poetsorg/poetry-near-you


Other ideas

What if you can't find any events in your area? Consider starting or hosting one!

--Request a free poster: https://www.poets.org/national-poetry-month/form/poster-request-form

--Want some other ideas? I wrote a couple of newsletters about playing with poetry, and there are some great books with interesting ideas that you could incorporate into a poetry event, as well. Don't just limit yourself with these newsletter examples. Read through many of them until you have plenty of ideas from which to choose.
http://www.writing.com/main/newsletters/action/archives/id/7139-Word-Play---Play...
http://www.writing.com/main/newsletters/action/archives/id/5866-Word-Play---Chil...

You can explore some of the events that are outside your area and see how they are choosing to celebrate to find some ideas, too!
http://www.scotlib.org/2016/04/national-poetry-month-celebration/
http://www.weho.org/residents/poetry-month-2016
http://www.omiami.org/


While I enjoy poetry all through the year, I also love that there is a whole month where I can share my joy with others. Come on and join—or host some poetry fun!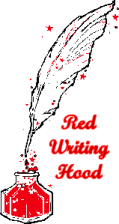 Have an opinion on what you've read here today? Then send the Editor feedback! Find an item that you think would be perfect for showcasing here? Submit it for consideration in the newsletter!
https://Writing.Com/main/newsletters/action/nli_form



Don't forget to support our sponsor!




| | |
| --- | --- |
| ASIN: B000FC0SIM | |



Have a question, answer, problem, solution, tip, trick, cheer, jeer, or extra million lying around?

If so, send it through the feedback section at the bottom of this newsletter OR click the little envelope next to my name RedWritingHood♡WDC
and send it through email.


Comments on last month's newsletter:


From: Monty

Comment: Thank you for a fine N/L Red. I am going to research the Canzone scheme. You have awaken an interest in me.

Thank you for sharing, Monty! I really appreciate it




Here's a question for you: How do you plan on celebrating National Poetry Month?



| | |
| --- | --- |
| ASIN: B01CJ2TNQI | |



To stop receiving this newsletter, click here for your newsletter subscription list. Simply uncheck the box next to any newsletter(s) you wish to cancel and then click to "Submit Changes". You can edit your subscriptions at any time.