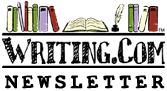 Romance/Love





This week: Love and Romance

Edited by: Lonewolf
More Newsletters By This Editor



1. About this Newsletter
2. A Word from our Sponsor
3. Letter from the Editor
4. Editor's Picks
5. A Word from Writing.Com
6. Ask & Answer
7. Removal instructions



Using romance as a plot device is the growing or weakening of a deep caring or sexual relationship between two or more characters. If done right, it can add that much needed fire to your story, or be your story entirely. Specialized romance such as love triangles, breakups, and consequently the element of romance itself, is exceedingly character-driven. So, who better to start with than our characters? You don't need to create them for each other, but before you dive into romantic scenes there are a few things you need to keep in mind.

| | |
| --- | --- |
| ASIN: B004PICKDS | |

Anyone can fall in love, however, certain characters falling for one another can be less exciting or pleasant for the readers. When deciding who to pair up with whom, you need to consider a few things that could either stop you in your tracks, or blossom into something worth reading.

Extremely similar characters are quite boring in a relationship. In real life, people who are very much the same fall for each other all the time, but there really isn't enough powerful chemistry to sustain that type of love for romance. If you fear the two you want to put together are too much alike, try to use their differences as stepping stones for their relationship and not the similarities. Complete opposites are equally boring and a lot more cliche. No matter how well you write them, it will turn into one of those blatant love/hate relationships that everyone uses. Characters dislike each other and have differences in the beginning, but the yin-yang relationship is really overdone and shows no real chemistry.

So what do you look for?

The characters must have points they don't agree on, that spark conversations and allow them to grow to see the value of the others views. But they've got to have a core value say, their opinion on a war, power, or love to bind them together. When you feel like the two are right together, then you've got the start of a relationship. Once you've got your characters you need to analyze their personalities. Be warned if you want to really get to know your character(s), it could take a while. However, if you have a good sense of your character(s) already then you've done a lot of the hard part.When you've got them all figured out you need to decide what they are looking for in a relationship.

No two people love the same way, and the people in a relationship love each other in different ways. Are they looking for acceptance? Have they never had anyone care for them? Are they only looking for someone who thinks they're handsome and sweet? This will cause conflict if the other character is in it for the long run and truly, cares about them. Do they want someone to comfort them when things go wrong? Is the main relationship a person-to-lean-on type of thing? Are they attracted to their partner's body/face and nothing more? Lust vs. love is a good match, especially if the lustful character starts to honestly fall for the other character in the middle of it.

When you finally have your characters established in their relationship, it's time to begin building. Remember, people don't fall in love overnight—and if they do, it doesn't last. Relationships are hard, and take work, whether fictional characters, or real life. If you take the time to really work on it, you'll be rewarded greatly in the end by all the time and effort you put into it.


Invalid Item
This item number is not valid.
#

2120192

by Not Available.
Invalid Item
This item number is not valid.
#

2119908

by Not Available.
The Fontaine (18+)
Jillian receives a mysterious inheritance - Co-written with Espero, Choconut, and Hannah
#

2119322

by Lornda
Burnt Pancakes on Trappist-1E (E)
A domestic space romance.
#

2119062

by Frogboy
Chapter 1 (13+)
Todd's one night stand turns into one complicated supernatural mess.
#

2118504

by J.T. Alexander



Have an opinion on what you've read here today? Then send the Editor feedback! Find an item that you think would be perfect for showcasing here? Submit it for consideration in the newsletter!
https://Writing.Com/main/newsletters/action/nli_form



Don't forget to support our sponsor!




| | |
| --- | --- |
| ASIN: B00KN0JEYA | |


| | |
| --- | --- |
| ASIN: 1945043032 | |



To stop receiving this newsletter, click here for your newsletter subscription list. Simply uncheck the box next to any newsletter(s) you wish to cancel and then click to "Submit Changes". You can edit your subscriptions at any time.