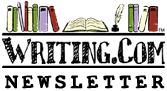 Contests & Activities





This week: Don't Do It!

Edited by: Gaby
More Newsletters By This Editor



1. About this Newsletter
2. A Word from our Sponsor
3. Letter from the Editor
4. Editor's Picks
5. A Word from Writing.Com
6. Ask & Answer
7. Removal instructions



Never mistake activity for achievement.
~ John Wooden

Our writing prompt generators use current events, scene elements, words, sketches, colors, genres and writing types, unleashing endless random bits of fantasy to fuel your muse. Plus, we've included our database of 600 creative writing prompts so you've got them right at your finger tips!

Get it for Apple iOS, Android or Kindle Fire.
Creative fun in the palm of your hand.

Are you ready for the brand new 2018? Is your mind full of brand new ideas? Writing contests? Fun activities? Yes? Don't do it.
Just kidding! The new year should inspire, make you feel refreshed, full of new hope and dreams. There's something about crossing that threshold, from one year into the next, that makes you start fresh.

So! Without digging too deep and too far into your personal plans for this year, have you planned anything special for this year? I'm talking about WdC related. Far be it for me to pry into your personal life.
The mind never stops working. Your imagination has no limits and at times the best way to get back to writing is to create an activity or two throughout the year to keep things going. It could be your distraction or inspiration, and whichever it is, it can be to your own benefit as well as those who participate in the creations you come up with.

Here's an important thing to remember when it comes to creating entertainment on the site, make it fun for your as well. Don't turn it into a chore you might regret later or may not have time for. Spur of the moment, one time only surprise activity to surround yourself with WdC friends and family could be just the ticket to cheer your up, inspire more writing. If anything, it will inspire others and give them something to enjoy.

Like I said, new year and all, make the most of it, but make it fun for yourself as well.

Wishing you all the best in 2018!
~ Gaby

Dear Me: Official WDC Contest (E)
What are *your* goals for the new year? Think it over, write a letter and win big prizes!
#

597313

by The StoryMistress
Grim Blunt Trauma Contest (13+)
OPEN for Horror Flash Fiction Contest, October 3 - October 31, 2018!
#

2046245

by Frighten Dead the Witch Warp
Character Flaws Contest (E)
Come yarn me a tale about a flawed character!
#

2144029

by Genipher
The Confused Monkey Signature Shop (E)
Unique, inexpensive signatures for you or a friend.
#

2131265

by Rhoswen - Relentless Victory
a very Wodehouse challenge (E)
A blind set of challenges hosted by Writing.com groups/members. Come test your fortitude!
#

1280691

by iKïyå§amhain
Twenty-Five Words or Less (13+)
READ-ONLY
#

2127482

by ruwth



Have an opinion on what you've read here today? Then send the Editor feedback! Find an item that you think would be perfect for showcasing here? Submit it for consideration in the newsletter!
https://Writing.Com/main/newsletters/action/nli_form



Don't forget to support our sponsor!







To stop receiving this newsletter, click here for your newsletter subscription list. Simply uncheck the box next to any newsletter(s) you wish to cancel and then click to "Submit Changes". You can edit your subscriptions at any time.