This week: Try Something New with Your Poetry

Edited by: RedWritingHood♡WDC
More Newsletters By This Editor



1. About this Newsletter
2. A Word from our Sponsor
3. Letter from the Editor
4. Editor's Picks
5. A Word from Writing.Com
6. Ask & Answer
7. Removal instructions



"A poem is a communication from one soul to another that makes one or both hearts sing."
Walter Mayes
"Everywhere I go I find that a poet has been there before me."
Sigmund Freud

Writing.Com presents "Character Prompts", an exciting twist on traditional writing prompts... Generate billions of unique character profiles!

Get it for Apple iOS, Android or Kindle Fire.
Creative fun in the palm of your hand.







Try Something New




Try something new with your poetry. Find a way to shake things up—turn them on their head, so to speak.

Today I'll talk about some ways to do that and share a poetry form that shares in those ways.



Rhymed or Unrhymed


Do you lean towards rhyming or mostly shy away? Unless you tread on both paths, you may want to try the path less traveled. If you rhyme all the time, try stretching that poetic muscle without using it.



Change Up the Rhythm


Never use meter? Try it out in a poem or two. Use meter all the time? Try some sort of meter you've not tried before. You've tried iambic, trochaic and anapestic, now try spondaic and dactylic. Maybe even take a stab at pyrrhic.



Change Up the Topic/Theme


Mostly work on spooky themes and dark topics? Try out nature or comedy, or even a children's poem. Do you like to lilt love poetry? Try spiritual instead.



Mash It Up!


Like poetry forms? Try mashing two into one! Try mixing a limerick with a sonnet. Maybe mix a lantern with an ode. Not sure what to mix or match? Throw a bunch of poetry form names in a hat and start picking two and start creating some mash ups (my own name for this type of thing)! If you want to try one out for size before you play around with them, see the form below.



Create a New Form


Need something else because you've done all of the above? Try creating your own form. Start thinking about things like: rhyme, meter, topic and theme of your form. Is it a long form or a short form? Does it matter? What are the rules? Map it out and have fun! Once you're done, then send the rules on to me and I'll share them with the newsletter




Haibun


Haibuns have been around for more than 300 years. They are a mash up of two forms: haiku and prose poetry. The Japanese poet, Basho, didn't create them, but he wrote many during his lifetime and was one of the first few to write them.



MUST HAVES


--Meter—none.

-- No rhyme.

--Merge prose & haiku poetry.

--Both prose and haiku should add depth and meaning to each other while also being able to stand alone on their own.



COULD HAVES or WHAT IS THE POET'S CHOICE IN ALL THIS?


--Topic/Theme.

--Number of lines.

--Number of stanzas—depends on how many haiku you incorporate into your haibun.

--Number of haiku to incorporate. Normally one, maybe two, but it is your choice.

--Start with either the prose or the haiku.

--Number of words: Micro Haibuns usually have a max of 200 words or less, but standard Haibuns are as long as you'd like them to be—just make each word count.



SOURCE NOTES:


Drury, John. the po.e.try dic.tion.ar.y. 2nd edition. Cincinnati: Writer's Digest Books, 2006. Print.


Turco, Lewis. The Book of Forms. 3rd. Lebanon, New Hampshire: University Press of New England, 2000.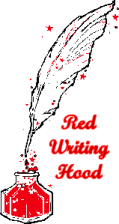 Theme: Haibun


















Have an opinion on what you've read here today? Then send the Editor feedback! Find an item that you think would be perfect for showcasing here? Submit it for consideration in the newsletter!
https://Writing.Com/main/newsletters/action/nli_form



Don't forget to support our sponsor!








Have a question, answer, problem, solution, tip, trick, cheer, jeer, or extra million lying around?

If so, send it through the feedback section at the bottom of this newsletter OR click the little envelope next to my name RedWritingHood♡WDC
and send it through email.


Comments on last month's newsletter:


From: Monty

Comment: Thank you for posting ideas on getting prompts etc for writing poetry.







To stop receiving this newsletter, click here for your newsletter subscription list. Simply uncheck the box next to any newsletter(s) you wish to cancel and then click to "Submit Changes". You can edit your subscriptions at any time.