This week: 20/20 Poetry Vision

Edited by: RedWritingHood♡WDC
More Newsletters By This Editor



1. About this Newsletter
2. A Word from our Sponsor
3. Letter from the Editor
4. Editor's Picks
5. A Word from Writing.Com
6. Ask & Answer
7. Removal instructions



"And it was at this age ... Poetry arrived in search of me."
Pablo Neruda
"Poetry is the step beyond, which we were about to take, but were not certain of the way."
Carleton Noyes

| | |
| --- | --- |
| ASIN: 1945043032 | |







20/20 Poetry Vision




Welcome to a new decade!


So what's your vision for your poetry in the upcoming year? Upcoming decade?


For myself, before I look forward, I want to look back. Because to see a clearer picture of where you are going, you need to look back to where you've been.


I found WDC (Stories.com back then) a little over 18 years ago, but was creating in many ways most of my life. However, finding WDC was what propelled me forward by leaps and bounds with my writing.


What helped me?



Read, Read, Read

There are several reasons for this:

--You find out what you like

--You expand your knowledge

--You find out what you don't like.

--And the list goes on.



Analyze


So now you've read some poetry you like and poetry you don't like. What do you like about it? What don't you like about it. What are the specifics? Try to isolate them.



Practice, Practice, Practice, and Practice Some More


Take your analysis and apply it. Many times.



From the Past to the Future


So, I know that I've learned a lot already, but there's always something new to learn. So, that's what I'm going to do. What else can I learn? That's my 20/20 poetry vision.


What's your 20/20 poetry vision?


While you're thinking about that, here is a poetry form to play with.



Haibun


Haibuns have been around for more than 300 years. They are a mash up of two forms: haiku and prose poetry. The Japanese poet, Basho, didn't create them, but he wrote many during his lifetime and was one of the first few to write them.



MUST HAVES


--Meter—none.

-- No rhyme.

--Merge prose & haiku poetry.

--Both prose and haiku should add depth and meaning to each other while also being able to stand alone on their own.



COULD HAVES or WHAT IS THE POET'S CHOICE IN ALL THIS?


--Topic/Theme.

--Number of lines.

--Number of stanzas—depends on how many haiku you incorporate into your haibun.

--Number of haiku to incorporate. Normally one, maybe two, but it is your choice.

--Start with either the prose or the haiku.

--Number of words: Micro Haibuns usually have a max of 200 words or less, but standard Haibuns are as long as you'd like them to be—just make each word count.



SOURCE NOTES:


Drury, John. the po.e.try dic.tion.ar.y. 2nd edition. Cincinnati: Writer's Digest Books, 2006. Print.

Turco, Lewis. The Book of Forms. 3rd. Lebanon, New Hampshire: University Press of New England, 2000.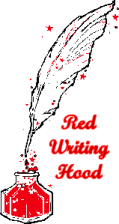 Theme: Haibun

















Have an opinion on what you've read here today? Then send the Editor feedback! Find an item that you think would be perfect for showcasing here? Submit it for consideration in the newsletter!
https://Writing.Com/main/newsletters/action/nli_form



Don't forget to support our sponsor!




| | |
| --- | --- |
| ASIN: B083RZ2C5F | Kindle |





Have a question, answer, problem, solution, tip, trick, cheer, jeer, or extra million lying around?

If so, send it through the feedback section at the bottom of this newsletter OR click the little envelope next to my name RedWritingHood♡WDC
and send it through email.


Comments on last month's newsletter:


I always enjoy your newsletters. You often share an old familiar form described with a fresh perspective. I am pretty sure this newsletter inspired Dave is trying to catch up
to use the Wrapped Refrain for his "Invalid Post"
@
~ The Poet's Place Cafe~ (E)
A place for discussion on poetry, reviews, contests, etc.
#

1937709

by Dave is trying to catch up
.

A Christmas wish to you and all of your readers all wrapped up poetry style: "Let Freedom Ring"
Thank you so much for your comments, the information, and the Christmas Wish!

| | |
| --- | --- |
| ASIN: B07YXBT9JT | |



To stop receiving this newsletter, click here for your newsletter subscription list. Simply uncheck the box next to any newsletter(s) you wish to cancel and then click to "Submit Changes". You can edit your subscriptions at any time.