Printed from https://www.writing.com/main/profile/blog/abranson
(19)

You never know what you'll find - humor, ramblings, rants, randomness- it's all me!
This description part is challenging. I never know what I will blog about until I start typing. I do know there will be typos. I don't reread or correct my blog. Otherwise it turns technical instead of my feelings and thoughts. Trust me, on stories and poems I'm a grammaraholic, but this is freedom. Sometimes to keep it from getting too personal, I even turn my head away while I type. Weird, right?. I hope you find this somewhat entertaining, thought-provoking, and humorous.
A little about me. The most important things in my life are family, especially my son, Reese, and my husband, Bruce, my walk with God, and making a positive impact in some way. I am a teacher, currently teaching 6th grade Language Arts. While at times my job can be trying, overall, it is one of the most rewarding passions in my life.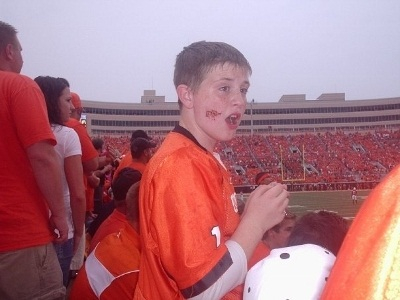 This is my wonderful son, Reese. He is now 20 and and a junior at Oklahoma State University. I may be partial, but he is an exceptional kid with the best heart I've ever known. He makes me laugh, think, and want to be a better person. We are both huge Oklahoma State Cowboy fans - Gooooooo Pokes!
This is Reese's dog, Betty. She shares a name with my mother. Reese named her that because she was beautiful and kind just like his Nanny (my mom). I'm not sure my mom is quite convinced it is a compliment though. Betty is a huge part of our family. She even had her own blog for awhile.
Poke around at your leisure and shake your head at some of things that go through mine. I always return reviews/comments, though admittedly, sometimes it does take me awhile depending on what life is serving me at that point.

Keeping the faith,
Audra
© Copyright 2023 audra_branson (UN: abranson at Writing.Com). All rights reserved.
audra_branson has granted Writing.Com, its affiliates and its syndicates non-exclusive rights to display this work.
Printed from https://www.writing.com/main/profile/blog/abranson