Printed from https://www.writing.com/main/view_item/item_id/1461454-DTC-Communicator-Article
(11)

Newspaper article and photo for fictitious newspaper.
The DTC Communicator
THURSDAY, AUGUST 23, 2007

Fallen Star in Tech Center
By Mike Armstrong
MRA NEWS REPORTER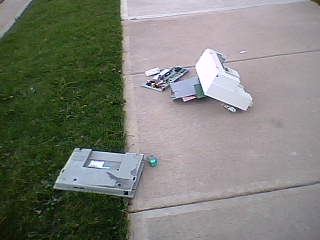 COPYRIGHT PHOTO/TEXT © MRA News
PHOTO BY MIKE ARMSTRONG

DENVER TECH CENTER ---
Authorities were called to the 6500 block of S. Quebec
Street yesterday morning, when a passerby called Greenwood
Village police to report a fax scattered across the sidewalk next
to a three-story office building just north of E. Arapahoe Road.
A check of the primary serial number revealed that the fax had
had an uncredited role as an extra in the cult film "Office
Space", but most recently had been employed as a workaday fax
on the top floor of the adjacent building.

When questioned by investigators, two office workers admitted
to having thrown the machine from the roof. "It kept running
slower and slower," said one of them, "and, for the last couple
of months, your chance of getting a 'transmission error' report
was about a ninety percent. We just couldn't take it anymore."

The owner of a local telecommunications equipment repair
shop - occasionally called upon to determine the official 'cause
of failure' - has a different theory: assisted technicide.
"According to its memory chip, the last thing it faxed on a
first-time, no-errors basis, was a casting call sheet for "Office
Space 2". I think it wanted one more shot at the big-time, but
couldn't get to the audition. So - it just lost hope and gave up;
human impatience did the rest."

No charges were filed, but both workers were cited for
improper equipment disposal.
© Copyright 2008 Soldier_Mike Salutes Veterans! (mikewrites at Writing.Com). All rights reserved.
Writing.Com, its affiliates and syndicates have been granted non-exclusive rights to display this work.
Printed from https://www.writing.com/main/view_item/item_id/1461454-DTC-Communicator-Article