Printed from https://www.writing.com/main/newsletters/action/archives/id/7872-Contests-and-Activities-on-WDC.html
Noticing Newbies: September 21, 2016 Issue [#7872]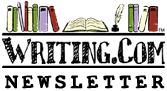 Noticing Newbies





This week: Contests and Activities on WDC

Edited by: ember_rain
More Newsletters By This Editor



1. About this Newsletter
2. A Word from our Sponsor
3. Letter from the Editor
4. Editor's Picks
5. A Word from Writing.Com
6. Ask & Answer
7. Removal instructions





As a dyslexic writer, I understand how scary it can be to put yourself out there for others to read your work. But, it is something every writer needs to do. Whether you're submitting to a publisher or posting here for the WDC world to see, you have to get over it eventually or die forever in obscurity with your children wondering why Momma/Daddy never did anything with their work.

The purpose of my newsletter is to entertain a bit if I can, but it is also to help you look at writing ideas as a new member you might not have thought of. To address issues every writer faces at some point in time so you know you're not alone. On occasion, I will throw in a WDC technical issue on how to find your way around here or the ML. What I won't do is give you something that bores me. Yes, I know there will be spelling mistakes. I won't use every their, there or they're correctly. I may spell collage when I mean college. But, what you will get are real answers to problems I have conquered and some I'm still struggling just like some of you.

My one and only goal is to help our new members feel like the belong because you do. Different ideas are welcome. Different styles are welcome and yes even if you have in the past spelled cat K A T out loud and thought you were right or struggle to let characters lead and the plot follow, you have a place here on WDC. None of us are perfect. We all struggle and we are all here to help each other in that struggle.

Friends have jokingly suggested that I drank the WDC kool-aide. I will happily agree. I did and I am so glad I did. Here is to all of our new members finding their writing home with us as well.

Quick note: I lost my editor, He's moved three hours away and has very little internet access, all for the love of a girl. So please bear (or is it bare) with me there will be mistakes. I'm doing the best I can. Lucky for us all Firefox now offers a Grammarly app and it works here on WDC



| | |
| --- | --- |
| ASIN: B00KN0JEYA | |



In case you haven't noticed from all of my other Newsletters, Many of us, dare I say most of us, that have been here for a while, see WDC as family. We like to take care of each other. Part of that is through encouraging members to write by offering writing contests. Another part of it is in supporting our groups and friends through raffles and auctions.



Raffles and Auctions



We love our Raffles and Auctions around here. Not only can you win prizes and bid on packages that can include everything from Merit Badges, Awardicons, reviews, free memberships, and gps, you get a chance to help the groups here that hand out those very things to worthy members contest or no. They can be found listed at:


Activities @ Writing.Com (E)
The best place to find out what's going on around Writing.Com!
#

819558

by Writing.Com Support


Each auction and raffle will list the requirements for entering and prizes you can win.



Contests



Writing contests can be for everything from children's stories to micro stories to poetry and novels. You can even find some erotica if that is what you are looking for. We have some that are daily options and others that happen once a month. We even have an official month contest ran by WDC Staff and Moderators. So where can you go to find out contests?


Writing Contests @ Writing.Com (E)
Writing Contests on Writing.Com are posted here.
#

171898

by Writing.Com Support


If you delete this email or lose it in the future you can find those links by clicking on the community link in the left-hand panel of any page on WDC.

I hope you stop by and have some fun. You never know what you're going to find.







This week I am going to give you links to things you can do instead of new members.



Contests
October NaNoWriMo Prep Challenge (13+)
A month-long challenge designed to help you plan a novel prior to writing it.
#

1474311

by Brandiwyn🎶
Out of The Fog Contest CLOSED FOR NOW (E)
A contest that comes out of the fog now and then, as if in a dream.
#

2002225

by Intuey
Shadows and Light Poetry Contest (E)
Do you love the challenge and creativity of free verse poetry? This contest is for you.
#

1935693

by Choconut
Activites
The Teddy Bear Gift Basket-CLOSED (E)
Give someone a basket full of Teddy Bear Gifts -10 slots only allowed
#

2009523

by Samberine Everose
Steampunk World (13+)
A Steampunk World, created by members of STaG. All are welcome to join!
#

2091435

by Beck hibernates in winter
Invalid Item
This item number is not valid.
#

2087949

by Not Available.
Newbie Portfolio Project (E)
How would you like a pretty ribbon for your portfolio? Non-newbies welcome!
#

1995591

by Cinn
These are just the tip of the iceberg. Take a look and see what you can find to do.



Have an opinion on what you've read here today? Then send the Editor feedback! Find an item that you think would be perfect for showcasing here? Submit it for consideration in the newsletter!
https://Writing.Com/main/newsletters/action/nli_form



Don't forget to support our sponsor!




| | |
| --- | --- |
| ASIN: B083RZ37SZ | |



So have you ever entered a writing contest?


| | |
| --- | --- |
| ASIN: B00KN0JEYA | |



To stop receiving this newsletter, click here for your newsletter subscription list. Simply uncheck the box next to any newsletter(s) you wish to cancel and then click to "Submit Changes". You can edit your subscriptions at any time.



Printed from https://www.writing.com/main/newsletters/action/archives/id/7872-Contests-and-Activities-on-WDC.html