Printed from https://www.writing.com/main/books/item_id/1762035-Who-Do-I-Think-I-Am
(18)

by

Fivesixer

A little bit of everything, colored my own way.
BLOG CHALLENGE WINNER FOR SEPTEMBER 2011 AND APRIL 2012!!
** Image ID #1901871 Unavailable **
After almost a year away, I've decided to revisit Blogville. I'm refreshed and ready...this time around it'll be a little different. I'll talk about a little bit of everything...music, sports, retail life, and more. It's not for everyone...you might not like it, but someone you know (and possibly detest) probably will!
WHO THE HELL DO I THINK I AM??
We're gonna find out one way or another!
Relax, enjoy, leave a comment, tell your friends...
A special thanks to
Julie D - PUBLISHED!
for the 2011 Quill Awards image!
"There is only one way...it is THE WAY." -Photo Jesus
"Can't you count to one??"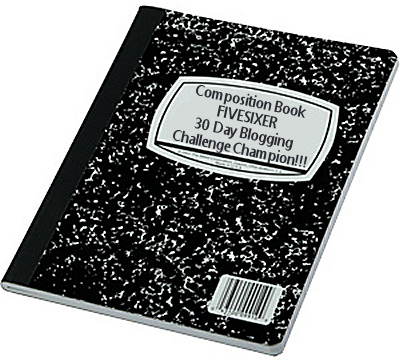 Thanks for stopping by and showing your support!
For the latest entries, please visit "
Who do I still think I am??
"
. Thanks!
© Copyright 2015 Fivesixer (UN: fivesixer at Writing.Com). All rights reserved.
Fivesixer has granted Writing.Com, its affiliates and its syndicates non-exclusive rights to display this work.
Printed from https://www.writing.com/main/books/item_id/1762035-Who-Do-I-Think-I-Am