Printed from https://www.writing.com/main/books/item_id/873145-The-Royal-Wedding----Princesses--Queens
| | |
| --- | --- |
| | The Royal Wedding. Fictional and personal views of Princesses and Queens. |
The Royal Wedding

I loved the Royal Wedding. I love fairy tales and Medieval times so I was in Heaven when I watched this. This was like watching Cinderella marry her Prince Charming. When I watched Prince William and Prince Harry walk into Westminister Abbey, the girl I worked with said the Princes were so handsome and don't you just love them? I said: "Yes, I do." I loved Princess Diana and I watched her Wedding thirty years ago and I was planning my Wedding as well at that time. I had a beautiful Wedding but of course it wasn't like the Royal Wedding but this wedding bought back memories of my own.

I got a kick out of the hats the women wore and I especially liked the woman who wore a red hat to the side with a black dress. Princess Beatrice's pink hat was interesting and she has big eyes and she was beautiful. This got me into wearing hats and head bands. I enjoy being cool even though I don't live in England. I can enjoy their fashions. Elton John walked in with his friend and I had always loved Elton John. I can't get over how big and beautiful Westminister Abbey is. It is over a thousand years old. This beautiful structure has witnessed a lot of royal weddings, crownings of Kings, Queens and funerals. I remembered watching Princess Diana's funeral. I felt sad but I feel her spirit was there and was happy for her son Prince William.


Kate Middleton. I just adore her. She looked beautiful in her white Wedding dress and I liked the lacey bodice. She looked so happy as she walked down the red carpet and a veil covered her face. I am glad the train wasn't so long. Prince William thought she was beautiful as well. I liked the red jacket he wore. They looked like a Prince and Princess in a fairy tale. The Wedding party were dressed like men of the Medieval times and it was a nice touch. Little children were part of the Wedding party and this was nice. I loved the Wedding and the singing. Wasn't it neat when they left in an old carriage? I thought maybe they would leave in a Cinderella gold carriage like the one Princess Diana arrived in years ago for her Wedding. I enjoyed watching how the black and white horses marched in step and didn't miss a beat. I loved when Prince William and Princess Kate or should I say: Duke and Duchess shared a kiss on the beautiful balcony? Later, Prince William and his bride drove away in a sports car. The wedding was perfect and beautiful. What I wouldn't have given to be there in London for that special day. I am part English and I live in the USA and with all the problems in the world, I am thankful that a beautiful Royal Wedding was taking place in England. I am a big fan of romance and this gave people a reason to smile and forget their problems for a day. The Royal Wedding. I wouldn't have missed it for the world. I am glad I got to watch it on TV and I wish William and Kate all the best. I love them. It's a love story and a fairy tale.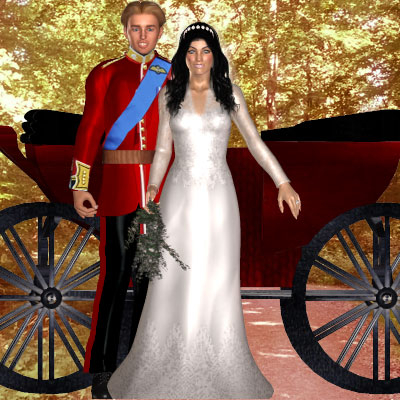 I love the medieval times and fantasy items but I have trouble writing about them. So, I am going to write stories about Princesses and Queens from their point of view. Not all Princesses live happily ever after. These aren't fairy tales. I hope you will enjoy these and I will do a good job with these. I play a Princess here so I hope that you will play along with me.

I have been writing stories of Princesses and Queens here lately but I write them as short stories or what ever way I choose to do so. Thanks! Hugs: Megan


** Image ID #726570 Unavailable **



© Copyright 2023 Princess Megan Rose (UN: tigger at Writing.Com). All rights reserved.
Princess Megan Rose has granted Writing.Com, its affiliates and its syndicates non-exclusive rights to display this work.
Printed from https://www.writing.com/main/books/item_id/873145-The-Royal-Wedding----Princesses--Queens